Both of these articles come from CNNMoney.com (on the same page). Which is right? Both are correct: we are getting out of the rigged stock market and Europeans are flocking to find a safe haven anywhere. Then ask yourself who else is buying stocks since today's bull run is fueled by vapors based on the continuing low volume.
David DeGerolamo
The retreat from U.S. stocks continued last week, with investors pulling $3.7 billion of domestic stock mutual funds.
The move out of the U.S. stock market continued through the final week of summer, as investors remained stuck in a rut and refrained from making any big moves ahead of Federal Reserve chairman Ben Bernanke's big speech in Jackson Hole.
In fact, investors pulled another $3.7 billion from U.S. stock market mutual funds during the week ended Aug. 31, according to the Investment Company Institute, bringing the 2012 outflow total to more than $76 billion.  By comparison, those funds lost in the neighborhood of $70 billion during the first eight months of 2011, and just $52 billion during the first eight months of 2010.
And then: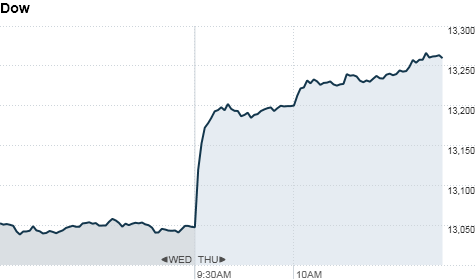 NEW YORK (CNNMoney) — A rally on Wall Street gained momentum Thursday as investors welcomed better-than-expected reports on the U.S. labor market and the European Central Bank's bond-buying plan.
The Dow Jones industrial average surged more than 200 points, or 1.8%. The S&P 500 and Nasdaq shot up more than 1.7%.