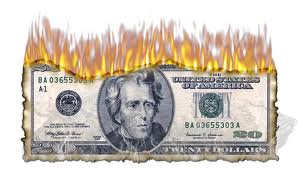 (Zerohedge)  "minutes ago the TBAC just told Tim Geithner they have given their blessing to the launch of Floating Rate Notes. To Wit: "TBAC was unanimous in its support for the introduction of an FRN program as soon as operationally possible. Members felt confident that there would be strong, broad-based demand for the product." Well of course there will be demand – the question is why should Treasury index future cash coupons to inflation when investors are perfectly happy to preserve their capital even if that means collecting 2.5% in exchange for 30 Year paper."   ~~~~~NNNNN~~~~~
Lets step back a moment and examine this rather profound yet subtle statement: The bankers are cheer-leading the FED to adopt a Floating Rate Note (FRN) program.  Of course they are – this means that when the hyper-inflation hits, the Treasury will have to pay an exploding margin on the federal debt to keep the FED banks whole (no net loss of asset values for the banks), AND it will drive the marginal rates up for consumer variable-rate instruments (read: home mortgages, LoCs, and some credit cards).  So the banks will get asset protection and a boost to the income from their mortgages and consumer credit lines… and the Treasury gets what in return?
The Treasury (and thus the America People) will get hit with mushrooming costs to service the national debt nearly as soon as the inflationary explosion occurs – the Treasury will essentially be naked in the face of a blistering inflationary storm, instead of being insulated by the long-term, fixed rate bonds it now issues.  This is The Death Card for the United States Federal Government, if they are smart/dumb enough to take the bait and go this route.  Ultimately, under this plan,  the Treasury will be at the mercy of the banks – yes, the FED banks – to have any operational cash flow.  The banksters will finally have a "captive government" and the US will become a completely fascist state, dictated by the Banksters.  We would not see much change, until we reach the tipping point, but once the line is crossed, the entire country would go into freefall with no parachute.
What does this mean for you and your community?  The combination of direct hyper-inflationary pressures on cost-of-living, plus skyrocketing rates on ARM home mortgages will drive millions of homeowners into Universal Default - late fees, penalty interest rates, accelerated payment demands, and default charges will result in a massive and immediate draw-down against the cash-flow of nearly every American household and small business.  As a result, layoffs, business closures, commercial defaults, and bankruptcies will go off the chart.  Much of "Mainstreet USA" will be shuttered and dark in short order, as small businesses do not have the cash reserves to survive a negative-income storm of this magnitude – only the large corporate entities will have the financial reserves to survive, further depressing markets by way of unilateral price fixing and other profiteering methods and activities.  This will likely destoy the free retail market in America, once and for all, in addition to destroying the vast majority of privately held wealth and savings.
This Universal Default mechanism is engineered to produce massive cashflows out of private income and assets, and into the banks which own the debt, thus creating a high-volume source of incoming liquidity for them… which gives them the ability to maintain a front-running posture against bank runs at two levels; they will have massive quantites of cash available to service counter withdrawls, and massive "earnings" to keep investment capital "cemented in place".  Remember, the banks don't actually care about outflows of cash, as long as they know they are going to get it back – and with the money from savings accounts being withdrawn to make loan and credit cards payment at a penalty rate of 29.99%, they KNOW they will get it back.
The net result will be that 99.99% of Americans will be forced to live paycheck-to-paycheck in a hyperinflationary market , and in corporate-controlled communities – can you say "municipal bankruptcy?"  Picture an entire nation run as a closed set of "company towns", controlled by a handful of corporate entites, backed by an all-powerful police state as their enforcer-in-chief.  This is a very concise analog of Chinese communism in the present day – one or two tightly regulated corporations will own a town, by grant of a license from the government – everything is owned by these corporations – the apartments,  houses, businesses, and even the city itself – no competition is allowed, as it would "be detrimental to the function of central planning".  Remember how many in the present administration admire Mao?  Well, they intend to do more than admire him, they mean to emulate him… and the banks are aparently in league with this plan.
There are a lot of secondary and tertiary influences implicit in this course of events, but the scenario above will be the immediate "in your face" primary effects which we must all be prepared for.  As to "when?" – I do not know, but the longer the US Treasury issues FRNs, the less insulation the federal government will have against a rapid turn in interest rates and inflationary pressures…
WE HAVE BEEN WARNED
LT
~Those who abuse Liberty, do so at their own peril!