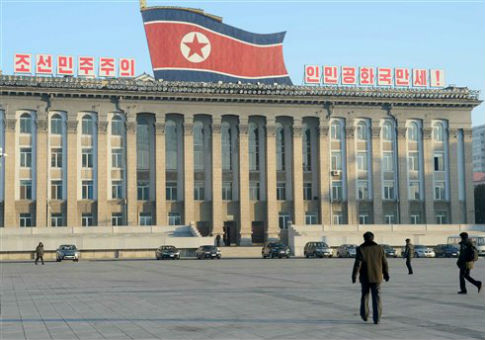 A top State Department official on Monday dismissed reports that Iran may be hiding key nuclear-related assets in North Korea and implied that she was unaware of the possibility, despite the publication this weekend of several articles by top analysts expressing alarm at the extent of nuclear cooperation between Tehran and Pyongyang.
Marie Harf, a spokeswoman for the State Department, dismissed as "bizarre" the reports, which described the transfer of enriched uranium and ballistic missile technology back and forth between the two rogue regimes.
The existence of an illicit Iranian nuclear infrastructure outside of the Islamic Republic's borders would gut a nuclear deal that the administration has vowed to advance by Tuesday, according to these experts and others.
If Iran is not forced to disclose the full extent and nature of its outside nuclear work to the United States, there is virtually no avenue to guarantee that it is living up to its promises made in the negotiating room, according to multiple experts and sources in Europe apprised of the ongoing talks.
Gordon Chang, a North Korea expert who has written in recent days about Iran's possible "secret program" there, described the State Department's dismissal of these reports as naïve.
~~~~~~~~~~~~~~~
The complete failure of the pResident's national security may very well allow our country to undergo a nuclear attack. If you survive, what will you do in this worst case scenario? One thing is certain, the politicians and their families who did this evil will be safely hidden in bunkers.
David DeGerolamo