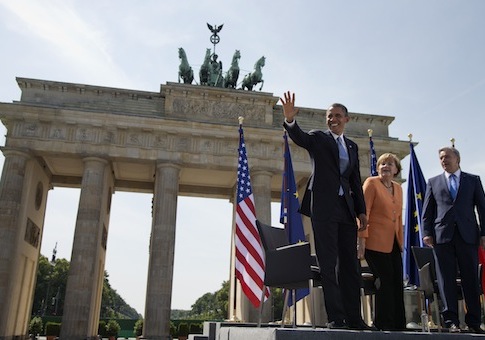 President Barack Obama this week ordered new limits on the use of U.S. nuclear weapons and called for sharp warhead cuts in a speech in Berlin aimed at what he called achieving "peace with justice."
"Peace with justice means pursuing the security of a world without nuclear weapons, no matter how distant that dream may be," Obama said on the eastern Berlin side of the Brandenburg Gate.
"And so as president, I've strengthened our efforts to stop the spread of nuclear weapons and reduce the number and role of America's nuclear weapons."
Obama announced that, after reviewing U.S. nuclear doctrine, "I've determined that we can ensure the security of America and our allies and maintain a strong and credible strategic deterrent while reducing our deployed strategic nuclear weapons by up to one-third."
It was not clear from the speech whether the president planned to cut the deployed warhead arsenal from the 2010 New START arms treaty level of 1,550 to around 1,000 unilaterally or with another arms pact with Moscow.
Obama said he intended to seek "negotiated cuts" with Russia but appeared to leave open a unilateral one-third warhead arsenal reduction by the United States.