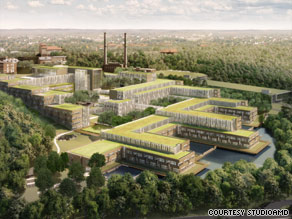 Washington notables broke ground on the future home of the Department of Homeland Security on Wednesday, symbolically starting construction on the biggest federal building project in the Washington area since the Pentagon 68 years ago.
The project will bring together more than 15,000 employees now scattered in 35 offices in the region, placing them on a 176-acre campus strewn with historic buildings in a long-neglected corner of Washington, five miles from the Capitol building.
Department leaders hope the $3.4 billion consolidation will help the department fulfill its core mission — protecting the homeland — in ways big and small.
"It will help us hold meetings," Secretary Janet Napolitano said. "It will help us build that culture of 'One DHS.'"
At the groundbreaking, political leaders shoveled dirt with care, but pitched historical references and metaphors with abandon.