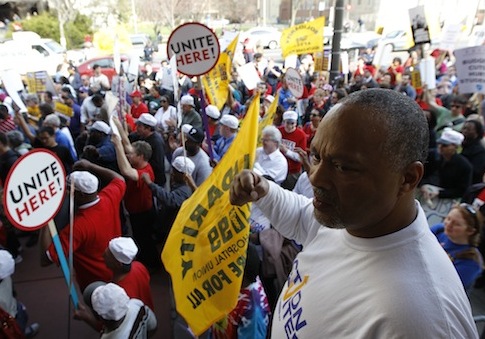 Several Philadelphia labor groups allegedly used feces, urine, spit, and fire to persuade businesses to hire union labor and area businesses are fighting back.
The National Labor Relations Board (NLRB) on Monday ordered members of the International Board of Teamsters Local 107, Pennsylvania's self-described "most powerful labor organization," to stop assaulting and spitting on employees, vandalizing vehicles, and obstructing business operations at the Eureka Stone Quarry, Inc.
Jim Morrissey III, whose grandfather started the cement mixing and construction service company, launched the suit after striking drivers dragged a company mechanic from his truck after obstructing the road with nails—an incident captured on surveillance tape.
"He was scared to death, surrounded by six to eight guys he thought were his friends," Morrissey said.
Local 107 secretary-treasurer Shawn Dougherty downplayed the NLRB ruling.