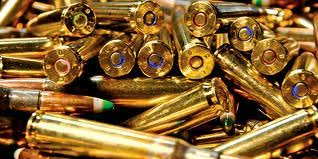 According to a report by Breitbart, the Internal Revenue Service has spent hundreds of thousands of dollars buying ammunition, raising concern about why a government agency is buying ammunition that the administration plans to restrict further in the coming months.
On Saturday, Congressman Matt Gaetz told Breitbart that the IRS spent approximately $700,000 "between March and June 1" purchasing ammunition.
Gaetz called the IRS's acquisition of the ammunition "bizarre." He said, "There is concern that this is part of a broader effort to have any entity in the federal government buy up ammo to reduce the amount of ammunition that is in supply, while at the same time, making it harder to produce ammo."
…
According to the Government Accountability Office the ammunition breakdown at the time included:
3,151,500 Pistol and revolver rounds
1,472,050 Rifle rounds
367,750 Shotgun rounds
56,000 Fully automatic firearm rounds
More interesting is that the IRS does not follow any regulations concerning the issuance, use, and accountability of the agency's staff carrying such weapons. This starkly contradicts the recent push of gun control laws nationwide, including more heavily regulated training and liability.