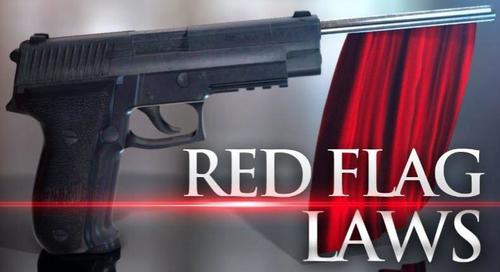 A gun seizure case before the Supreme Court could open the flood-gates to warrantless searches…
President Joe Biden launched his first attack on the Second Amendment this week, making clear his intent to radically curtail Americans' legal rights to own firearms. The White House boasted that Biden was nominating a "fierce" advocate of gun control, David Chipman, to be chief of the Alcohol Tobacco and Firearms (ATF) agency. Chipman, a former ATF agent, is so dedicated to banning assault weapons that he brazenly lied last year about the 1993 federal assault at Waco, claiming that the Branch Davidians shot down two National Guard helicopters that were assaulting their home. Chipman, a Phillips Exeter Academy graduate who carries a concealed weapon himself, was an ATF case agent at the 1994 trial of the Branch Davidian survivors so he had no excuse for tossing out this anti-gun fairy tale.
Perhaps the biggest peril that Biden unveiled is his push for a national "red flag" law that would entitle the police to preemptively confiscate the guns of anyone who is accused of being a threat to himself or others. Red flag laws have been notorious for trampling due process and spurring unjustified police raids that have resulted in killing innocent gun owners. It is naïve to expect fair play on gun owners' rights when the politicians driving such policy are openly seeking pretexts to disarm as many Americans as possible. Biden's push for a red flag law could become far more perilous to constitutional rights if the Supreme Court upholds a potentially landmark gun seizure case that could gut the Fourth Amendment's prohibition against warrantless searches. The Court heard arguments in this case last month and a decision is expected by June.
In 2015, after an elderly couple had a heated argument, Edward Caniglia placed an unloaded revolver on the table and taunted his wife: "Why don't you just shoot me and get me out of my misery?" His wife, Kim, was spooked and left to stay overnight in a hotel. When he didn't answer a phone call the next morning, she called the police and asked them to check on him.
Police arrived and browbeat Edward Caniglia into getting get a psychiatric examination at a hospital. He agreed to do so only after police promised not to seize his handguns. The shrinks certified him as sane (at least by prevailing Rhode Island standards) and he returned home to learn the police had confiscated his guns. Both he and his wife requested the guns be returned. Police refused to do so until Caniglia, who had no history of violence or abusing firearms, filed a lawsuit. Caniglia also sued the city of Cranston and police officers for violating his constitutional rights.
At first glance, his case rested upon solid precedent. The Supreme Court ruled in 1980, "It is a basic principle of Fourth Amendment law that searches and seizures inside a home without a warrant are presumptively unreasonable."  In 1948, the Supreme Court declared that the sanctity of private homes is "too precious to entrust to the discretion of those whose job is the detection of crime and the arrest of criminals." But the police and their supporters relied on a vast expansion of a 1973 Supreme Court decision that justified a warrantless "inventory search" of a rent-a-car to seek a police officer's revolver in the trunk as part of the "community caretaking" exemption to the Fourth Amendment. A federal judge and a federal appeals court, ruling in favor of Rhode Island police, effectively concluded that a private home was "close enough for government work" to a rent-a-car to justify warrantless searches.
~~~~~~~~~~~~~~~~~~~~~~~~~~~~~~~~~~~~~~~~~~~~~~~~~~~~~~~~~~~~~~~~~
Pass whatever "Laws" you like. I no longer care. I will not comply with anything. Good Luck with Enforcement!
Wes