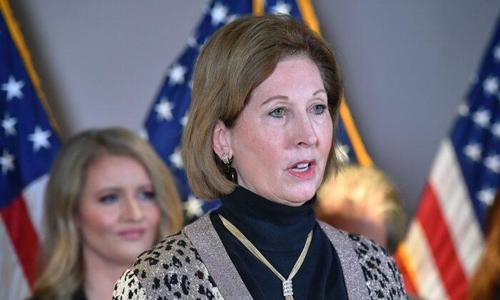 Supreme Court Rejects Sidney Powell's Lawsuits Challenging Election Results In Wisconsin, Arizona
The Supreme Court on Monday formally rejected two of Sidney Powell's lawsuits that challenged the results of the Nov. 3 election.
The Supreme Court didn't offer any comment on dismissing the lawsuits on Monday. One lawsuit was filed in Wisconsin and the other in Arizona.
"The petitions for writs of mandamus are denied," the court said.
~~~~~~~~~~~~~~~~~~~
As I listened to Donald Trump at CPAC, I wondered how stupid the American public are. He talked about future elections and beating the Democrat presidential nominee for a third time. We know that Donald Trump worked his entire life solving problems in order to manage and solve construction issues of his real estate empire. So here is the simple question: when HR 1 is passed and federal elections are completely overseen by the corrupt Deep State, how will anyone who is not part of the corruption and evil in Washington, D.C. ever get elected?
It is the only problem that must be solved before any rhetoric concerning taking back the federal government is discussed. And even if voter reform was enacted for fair elections, who would want Republicans in power? If this question offends you, ask yourself what Republicans have done in the first six weeks of the Biden "administration" as jobs were destroyed, energy costs have skyrocketed and the attacks on our culture have been increased exponentially?
It is time to realize that the fix is in by the Deep State in all branches of this illegal regime. Trump will never be installed as President, the military will not honor their oath to the Constitution or their duty under the law. The Supreme Court is a Deep State rubber stamp consisting of traitors. And the people sit back, get vaccinated with a mRNA construct that no one knows what protein(s) it will translate and eat their oreo cookies.
David DeGerolamo
Related article from Brock