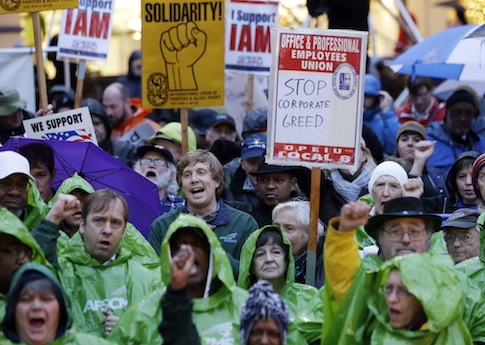 Boeing will move portions of its airplane construction out of Washington after a local union rejected a contract offer that would have saved the company $8 billion.
A company spokesman told theWashington Free Beacon that the company had no choice but to move construction of some of its largest planes out of the Evergreen State after International Association of Machinists and Aerospace Workers Local 751 rejected changes to wage and retirement plans.
"Since the union rejected the offer, we were forced to pursue all options for locating the 777X," Boeing spokesman Doug Alder Jr. said. "That process is actively underway, although we are not disclosing which locations we are considering."
Talks fell apart after the union balked at the company's offer to increase retirement contributions by $2,400 per year on the condition that employees accept 401(k)-style plans, rather than the traditional retirement package. Union members currently receive defined benefit plans, which guarantee recipients a percentage of their salary after retirement.