This is the current information for influenza in the United States so far this season:
Key Points
Outpatient ILI and laboratory data remain elevated and increased slightly this week. Some regions are seeing increases in the proportion of influenza A(H1N1)pdm09 viruses compared to influenza B viruses.
Levels of outpatient ILI remain elevated; however, hospitalization rates remain similar to what has been seen at this time during recent seasons and mortality, while low overall, has exceeded the epidemic threshold for one week this season.
Over 50% of influenza positive test results from public health laboratories this season are in children and young adults (<25 years), while only 12% are in adults aged 65 and older. This has resulted in high levels of outpatient illness, but lower levels of hospitalization and death due to influenza. However, influenza can still cause severe disease in children.
15 additional pediatric deaths were reported this week, bringing the total for the season to 54. Influenza B viruses account for 37 of the 54 reported flu-related pediatric deaths this season.
CDC estimates that so far this season there have been at least 15 million flu illnesses, 140,000 hospitalizations and 8,200 deaths from flu.
Flu vaccine effectiveness estimates are not available yet this season, but vaccination is always the best way to prevent flu and its potentially serious complications.
Antiviral medications are an important adjunct to flu vaccine in the control of influenza. Almost all (>99%) of the influenza viruses tested this season are susceptible to the four FDA-approved influenza antiviral medications recommended for use in the U.S. this season.
Glenn Beck pointed this out today: if the same criteria was used for th A(H1N1)pdm09 viruses as China is using for the novel 2019 Coronavirus, several large cities would be under quarantine in the United States. So we have two rational hypotheses based on this information:
China is lying about the threat and the number of confirmed cases of this novel coronavirus.
The United States' government is not concerned with the possibility of a major influenza outbreak.
Neither hypothesis can be tested (or thereby proven). We know that the first hypothesis is correct. We can assume (correctly or incorrectly) that the R0 is at least 3.5 but probably higher and that the number of infected is much higher.
Here is a chart of the predicted vs. the actual number of infected: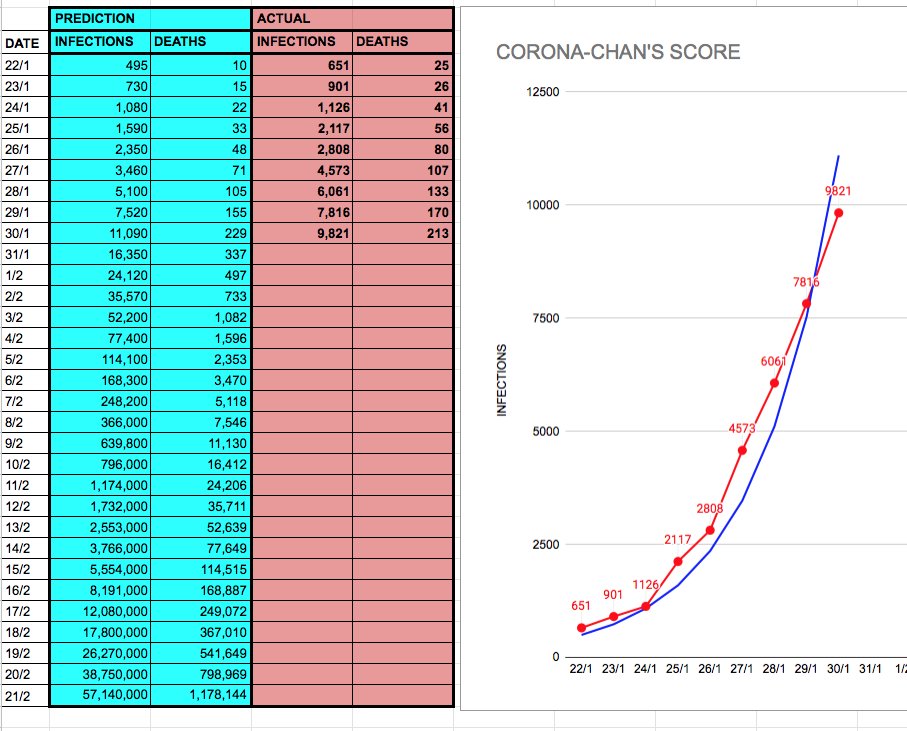 I believe that the numbers will continue to rise exponentially until regions start to burn out of the virus. Even if I am correct, the predicted numbers still will constitute a worldwide plague of Biblical proportions.
David DeGerolamo