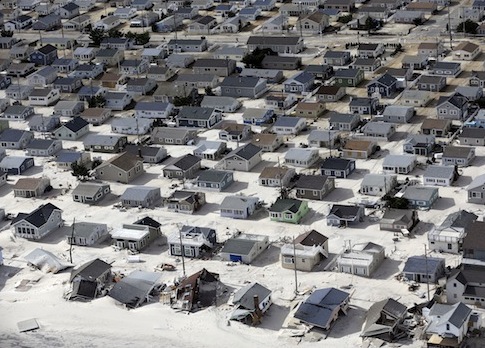 Dozens of residents are still living without heat, hot water, or electricity in condemned structures flooded by both sea and sewer water in the Gerritsen Beach community of Brooklyn after a request to FEMA for temporary housing after Hurricane Sandy was denied.
"We need structures and housing. It is truly desperate," said Jameson Wells, executive assistant to the director of GB Cares Sandy Relief, a volunteer relief organization. FEMA has said they did not have appropriate trailers.
"They told us they were unavailable because they are unheated and not insulated," Wells said.
However, around 92 FEMA trailers are sitting idle and unused 145 miles away in Pennsylvania, the Free Beacon has found. Two employees from different companies located near the trailers' location on Route 315 in Plains Township, Pa., confirmed the trailers were there.
One employee of a nearby store who asked not to be identified said some units are bigger than others. All of the units are equipped with heat pumps.
"Maybe someone should call FEMA to tell them about these trailers that can be used for the victims of Sandy," the employee of the nearby store said. "The people in New York and New Jersey who are suffering, they should definitely give them these trailers. … They are living for a month without heat or electricity. God bless them. I lived without power for four days and it was painful."