How would your life be impacted by a loss of communications? Imagine no television, radio, Internet, land or cell phones, or newspapers. A loss of electricity due to a hurricane would impact any communications that are not battery based. A backup generator would give you more access if we assume that these sources are still transmitting in your local area.
Loss of communications means loss of information and panic in a short period of time. How would you answer the following questions:
Where are my family members?
Are we being attacked?
How long will this last?
Is this a local blackout or more widespread?
This list can be expanded but our security turns to insecurity very quickly without verifiable information. One solution is to purchase and install an amateur (ham) radio. This will give you access to emergency broadcasts as well as HF broadcasts from around the world. The system outlined later in this article operates as a base station but can be used as a mobile unit by the addition of a mobile antenna. A 12V car battery (or deep cycle marine battery) can provide the power to operate this base station if the electrical grid is out.
The site for the American Radio Relay League is a good starting point. In order to broadcast on VHF/UHF channels, you must have a technician's class license. To broadcast on HF channels, you need a general license and additional HF channels require an extra license. No license is required to listen. The tests are administered across the state and you can find a location near you at this site:
  http://www.arrl.org/exam_sessions/search
The following list of parts can be purchased online at Ham Radio Outlet, Inc.  or other vendors. The prices may have changed since late last year. This is only a recommendation for a base station: there are a large variety of manufacturers and units for amateur radio systems.
Yaesu FT-857D Transceiver
Yaesu YSK-857
Separation Kit – extension cables for mobile installation
$825
Alinco DM-330MV – Power Supply 5-15VDC 30 AMP switching
$169.95
Yaesu T9023225 DC Power Cord – allows you to power the unit without a power supply using a 12V battery
$26.95
X50A  Diamond 2M/440 Base Vertical antenna
$99.95
CXP08XC25 25 Ft RG8X Cable –
Need quantity 2 @ $28.95 = $57.90. This was 25′ for UHF/VHF and 25′ for HF. If your antenna will be more than 25′ from your transceiver, you will a longer length of coax.
MFJ-17758 Dipole 80/40M antenna
$89.95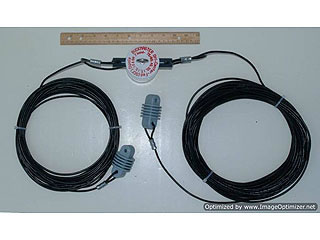 Buckmaster DX-OCF
80/75, 40, 20, 17, 12, 10, AND 6M OFF CENTER DIPOLE LOW SWR 300W MAX
$225
YT-100 LDG Auto Tuner
$199.95
Miscellaneous parts such as tie wraps, screws, mounting base for the antenna (like a satellite dish), string to tie off the antenna and a piece of pipe run an addition $25-$35.
David DeGerolamo