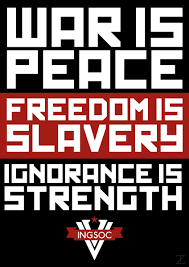 Communists have taken over the United States. Everything that George Orwell outlined in 1984 has happened here. The war in Ukraine will be the means to usher in "peace" for the new world order. The rest of the 1984 mantra is self-evident.
Do you think Winston was happy playing chess and owning nothing?
The difference that will save the United States is that we have the 2nd amendment. Do not become Winston and accept Communism for liquor and chess.
David DeGerolamo