We know their plan because they told us: a pandemic, the Great Famine and a world wide conflagration to solidify their power over the remaining 500 million people. Artificial intelligence and robots will replace people who have become obsolete in the globalists' minds. How we got to this point where life and Liberty are so cheap is a question that future generations will have to ponder. We have to decide if we will go quietly into the night or fight.
As NATO is expanding the war into the Pacific to include China, we have to realize that their goal is not to combat and condemn Russia. We are collateral damage because our deaths are their intended goal to usher in the New World Order.
David DeGerolamo
~~~~~~~~~~~~~~~~~~~~~~~~~~~~~
NATO To Engage In Asia-Pacific To Counter China
The North Atlantic Treaty Organisation (NATO) has announced that it will begin engaging in the Asia-Pacific region both practically and politically in light of Beijing's growing influence and coercion and its unwillingness to condemn Russia's invasion of Ukraine.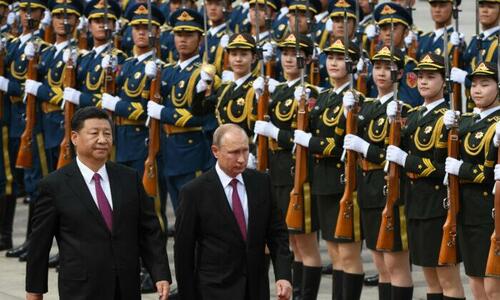 Speaking following the meetings of NATO Ministers of Foreign Affairs on April 7, NATO Secretary-General Jens Stoltenberg said the global implications of the Ukrainian conflict had propelled the organisation to step up its engagement with Asia-Pacific partners for the first time.
"We have seen that China is unwilling to condemn Russia's aggression. And Beijing has joined Moscow in questioning the right of nations to choose their own path," Stoltenberg said.

"This is a serious challenge to us all. And it makes it even more important that we stand together to protect our values."
NATO and its Asia-Pacific partners—Australia, Japan, New Zealand, and the Republic of Korea—met in Brussels to discuss international support for Ukraine.