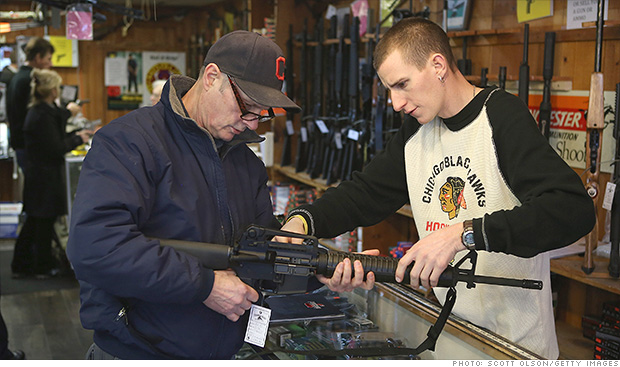 Sturm, Ruger & Co., one of the nation's leading gun companies, reported fourth-quarter earnings and sales Wednesday that blew past analysts' expectations.
The Southport, Conn.-based company said it earned $1 per share on sales of $141.8 million in the final three months of 2012. Analysts were looking for earnings of 82 cents per share and sales of $122 million.
The results do not fully reflect the recent spike in gun sales, most of which occurred have occurred in 2013.
Shares of Sturm, Ruger (RGR) were up nearly 4% in extended trading.
"Demand for our products outpaced the growth in overall industry demand," Sturm, Ruger CEO Michael Fifer said in a statement, pointing to the number of federal background checks – a barometer of gun sales – that were made this year. Fifer will discuss the company's results in a conference call with analysts Thursday morning.
For the full year, net income increased 77% to $491.8 million, or $3.60 per share.
Gun retailers have struggled to keep up with demand for firearms in the months following a mass shooting in Newtown, Conn. The shooting, which left 20 children and six adults dead, reignited the debate over U.S. gun laws. Sales had already been on the rise since President Obama's reelection in November.