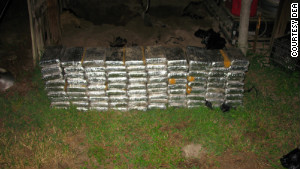 In August 2011, the DEA uncovered 90 kilograms of cocaine buried under a barn in rural Robeson County, North Carolina.
Wilmington, North Carolina (CNN) — Less than a mile off a county road in Ivanhoe near the Black River, federal drug agents and local authorities found exactly what their informant had promised.
"We saw what looked like, as far as you could see, marijuana plants," said Drug Enforcement Administration agent Michael Franklin.
There were about 2,400 in all, surrounded by a makeshift camp where the growers had illegally squatted on private property, setting up a generator and pump to tap the river for irrigation. The camp, which had been recently inhabited, contained a tarp shelter, canned fuel, drinking water, toiletries and old clothing, some of it camouflage.
Authorities staked out the "grow" for two days waiting for the marijuana farmers to return. They didn't. It was just as well, Franklin said.
"The people we were really focusing on were not the guys tending the field. The guys bankrolling the field were the target," he said.
Those guys, according to the DEA's source, were members of La Familia Michoacana, a Mexican drug cartel that the Justice Department says focuses primarily on moving heroin, cocaine, marijuana and methamphetamine into the southeastern and southwestern United States.
Because the investigation into the June 2009 seizure is still ongoing, the DEA would not divulge further details. But Franklin said the case is one in a growing list of cartel-linked busts he is seeing in largely rural southeastern North Carolina. The area's Latino population has grown considerably in the past 20 years, and authorities say cartel operatives use Latino communities as cover.
"While the majority of (Latino residents in the area) are hardworking people like anyone else, it's an opportunity for the cartels to have their foot soldiers do their thing, too," Franklin said. Based in Wilmington, he is resident agent in charge of 14 counties.
…
Battle of Wilmington
Wilmington certainly fits the bill for a cartel sub-hub. It has the obligatory major thoroughfare, I-40, which runs all the way to Barstow, California, 2,500 miles away. Wilmington's Latinos constitute only around 6 percent of the city's population, but outlying counties like Cumberland, Sampson and Duplin have watched their Latino numbers skyrocket in the past two decades. Employment — construction in the city and farming in the counties — is the big draw.
On its face, the 273-year-old, largely white port city wedged between Wrightsville Beach and the Cape Fear River appears an unlikely front in the Mexican drug war.
Bars, restaurants, shops and Spanish moss-draped oaks pepper the quaint downtown, which is bookended by a community college and a century-old Catholic church. Its weather and tidy beaches draw plenty of tourists and retirees.
Thousands of educators, UNC-Wilmington students, government workers, surfers and military personnel call Wilmington home. The regional medical center provides almost 5,000 jobs, while GE, Progress Energy, Corning, Verizon, Walmart and International Paper are also big employers. The pharmaceutical industry also brings thousands of jobs to the city, making Wilmington a player in the legal drug trade as well.
…
It's a microcosm of what's happening in the country, as cartels quietly begin operating anywhere that lends them a competitive advantage in a market that contains about 4 percent of the world's population yet consumes roughly two-thirds of its illegal drugs.