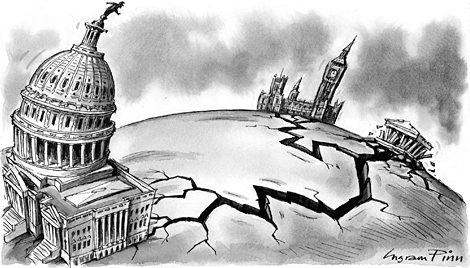 The announcement below from Eurozone lenders "hints" that they trust Greece but want to verify the Greek's austerity plans before they give them aid. Translation: the Greek people will not get more welfare until they prove their resolve to act responsibly.
No surprise here since this has been the cycle for, well it seems like forever. The media and world leaders announce that the Greek crisis is resolved, world stock markets recover and then the deal collapses or is renegotiated. The only people making money in the stock market are the bookies:
httpv://www.youtube.com/watch?v=g4Uv4ftekaI
Assuming that the Greek crisis is resolved for a few more days, is anyone watching
Portugal, Italy, Ireland or Spain? Bad news is only bad for the stock market if it is reported.
David DeGerolamo
Greece's lenders are sending a team to Athens to inspect a government austerity plan they want implemented in exchange for aid, while Germany suggested a new bailout may have to be renegotiated.
Facing a wave of strikes and protests, Greece's Socialist government is  accelerating its debt strategy to meet the terms of an International Monetary Fund and European Union rescue deal so it can receive a new loan next month and avoid bankruptcy.
The "troika" team of inspectors, which had threatened to cut off aid if Athens did not move faster, will begin talks on Thursday on a plan demanded by lenders to deepen budget cuts and raise taxes, which has set off protests not seen since June when riot police fought running battles with activists.
"I can confirm the Eurogroup (of euro zone ministers) will hold an additional meeting as soon as possible, still in October, to discuss the situation of Greece and consider the disbursement of the next tranche," a European Commission spokesman said in Brussels, announcing the troika's return.