From Malachi in the comments:
David, with all due respect, I'm confused. If you were to discover a 'red room', how would you deal with that? We know that the authorities protect such places. So what would you do? I get the impression that A.C.W. would go in guns-a-blazin' and terminate the vermin. How would you 'stand up' if not in that way?
'Turn the other check, resist not the evil man, the meek will inherit the earth.' Plenty of Scripture to encourage us to sit still and take it expecting some heavenly reward. Our pre-Christian ancestors would already have dealt with the evil, and yet we continue to complain and wait. What do you suggest we do? This is not an attack. I consider you a brother, but I'd seriously like an answer.
~~~~~~~~~~~~~~~~~~
Definitions:
1. Vigilante
a member of a volunteer committee organized to suppress and punish crime summarily (as when the processes of law are viewed as inadequate)
broadly : a self-appointed doer of justice
2. Renegade
an individual who rejects lawful or conventional behavior
~~~~~~~~~~~~~~~~~~
I wonder if anyone ever thinks about the title of this site? I do not feel any obligation to anyone but the Lord. What does that mean? In relation to the question concerning red rooms, I will admit that I have not thought about it in the past since I only recently heard about these rooms. The only way that I would "discover" a red room would be if the Lord directed my footsteps. I do not go out much and do not associate with many people at this point. So let me be clear: I would act to terminate anyone hurting a child in any location.
That being said, I would act in or on a Committee of Safety. I had prepared a presentation for this part of our history a few years back but the agenda of the group meeting changed. I took that to be a sign from the Lord that it was not the right time. At present, I would not even attempt to define lawful or conventional behavior in this country. My personal thoughts on vigilante justice are based more on eternal salvation. We cannot be hindered by inaction or doubts but who wants to make a mistake that will impact our eternal salvation?
If I act to protect the innocent (especially children) or am directed by the Lord to act against evil, the choice is to act. If that is your definition of vigilante, we agree. In other circumstances, if a group decides that someone needs to be punished without a trial in which to defend themselves, then we disagree. Justice needs to be restored and swift justice will be needed.
Consider: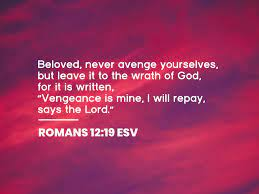 So to be clear, the Lord is responsible for vengeance. I believe that He uses righteous Men of God in some cases to fight and eliminate evil. I do not pretend to speak for the Lord or if He will avenge a nation who have turned their back on Him. As I said, I will defend the innocent from harm and have no problems for swift justice.
I know that many readers will object to this answer. I have a question for you: do you carry a firearm at all times? If the answer is no, then do some soul searching. I always carry a firearm and continue training myself and others in their use. I will say that the only recent change in my behaviour has been to carry an extra magazine. Times are spicy. Actions have consequences. Words are meaningless when the fight against evil becomes a physical reality.
I pray that I act using a firm reliance on Divine Providence so that my eternal soul is not jeopardized by rationalization instead of reasoned actions.
'Turn the other check, resist not the evil man, the meek will inherit the earth.'
Matthew 5:
5"Blessed are the meek, for they shall inherit the earth. 6"Blessed are those who hunger and thirst for righteousness, for they shall be satisfied. 7"Blessed are the merciful, for they shall receive mercy.8"Blessed are the pure in heart, for they shall see God.9"Blessed are the peacemakers, for they shall be called sons of God.
The meek will inherit the earth when God deems it so. Jesus told us next that those who hunger and thirst for righteousness will be satisfied. Be merciful and pure in heart. Be Men of God.
38"You have heard that it was said, 'An eye for an eye and a tooth for a tooth.' 39But I say to you, Do not resist the one who is evil. But if anyone slaps you on the right cheek, turn to him the other also. 40And if anyone would sue you and take your tunic, let him have your cloak as well. 41And if anyone forces you to go one mile, go with him two miles. 42Give to the one who begs from you, and do not refuse the one who would borrow from you.
Concerning the above Bible verses from Matthew 5, I must confess that I will resist and terminate any evil man or woman caught doing evil to innocents. The Lord will direct my words, footsteps and actions. If anyone wants me to put man's law or opinions first, I can only say "it ain't gonna happen".
David DeGerolamo